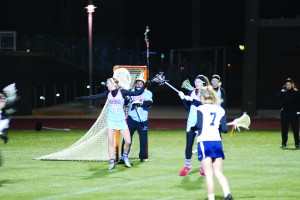 by hannah franks
The girls varsity lacrosse team is getting ready for its spring season.
The team has finished its tryouts and now has moved on to real practices to get prepared for the upcoming season.
"Tryouts were super competitive which was cool. There was a lot of talent so that made it really fun," junior Alexis Fahrney said. Fahrney plays attack on the team.
On Wednesday, March 13, the team had their first scrimmage of the season against George Mason High School.
They played three teams: Falls Church High School, Broad Run High School and Thomas Jefferson High School for Science and Technology on March 9 for the George C. Marshall Jamboree.
"We won all three games and then we also won the scrimmage before that so we were undefeated in the preseason which was great," Fahrney said.
One of the biggest events of the season will be a spring break tournament at Virginia Beach. At the tournament the team will play against three teams: Norfolk Academy, Norfolk Collegiate, and Cape Henry Collegiate.
The team has set high goals for the season.
"I think we want to do as well as we did last year, so our biggest goal is to keep it up. We definitely have a young team this year so we just really need to learn our plays, but I think we are definitely good to succeed this year," Fahrney said.