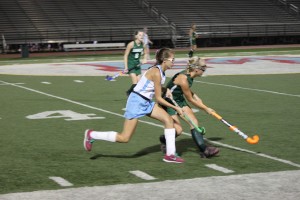 With a young varsity team, field hockey hopes to gain experience and skill as the season progresses.
After the graduation of 12 seniors last year, the team started the season with only three seniors and six players with prior varsity experience.
"The varsity team is made up mostly of juniors that were on JV last year so we're a young team," senior and varsity captain Allie Johnson said.
The team lost not only experience but also leadership with the graduation of seniors.
"We're trying to get [the captains] to take charge of the team and be a little more vocal like the ones last year," varsity coach Christina Carroll said.
According to sophomore Ariana Wheeler-Lafuente, who also played on varsity as a freshman, the team needs more practice.
"I feel like we have to work a little bit harder this year," Wheeler-Lafuente said.
However, according to Johnson, the team is cohesive.
"We are a lot more connected than we were last year which helps for on and off the field," Johnson said.
The cohesion is helping the team to improve each time they play together.
"Every game has been getting better in terms of playing together and communication, its just a work in progress," Carroll said.
The JV and varsity teams practice together and watch some of each other's games, providing opportunities for the more inexperienced players to learn.
"We all help each other and if anybody has any questions everybody is comfortable enough to ask for help," Johnson said.
While acknowledging possible setbacks for the season, Wheeler-Lafuente keeps a positive attitude.
"We definitely have a lot of potential and raw talent," Wheeler-Lafuente said.
Varsity was 7–8 as of press time.