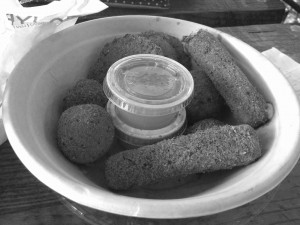 Sandwiched between Target and a row of boutiques in Merrifield's new plaza, the Mosaic District, is a small but promising hoagie shop: Taylor's Gourmet. Furnished with communal seating and repurposed decor, Taylor's has a notably eco-friendly flair. Their take-out–friendly menu is comparable to guilt-free fast food: a vast selection of made-to-order hoagies named after streets in Philadelphia (vegetarian options included); popular appetizers including pastas and salads; desserts like cookies and cannolis; even a selection of cane sugar sodas.
In a previous visit I ordered the "Lombard Street," one of their cold-cut options, which was impressive and chock-full of mouthwatering garden-fresh ingredients. This time, I ordered the "Market Street," a roasted pork sandwich. Since the 6-inch was $7.50 (quite pricy considering the small portion size), I couldn't pass up the opportunity to double the portion size for only $2, so I ordered the 12-inch, planning ahead to save some for later. I also ordered the Taylor Sampler, which included risotto balls, fried raviolis, mozzerella sticks and stuffed peppers.
Crusted in herbs and breadcrumbs, the appetizers came with two dipping sauces: marinara and a cream based sauce. The large portion size is definitely for sharing, especially considering that all the contents are cheesy and heavy. Compared to the risotto balls, which were rich and flavorful, everything else was sub-par. The stuffed peppers had too much meat, and the spiciness of the pepper overcompensated for the lack of flavor.
Already full from the appetizers, I could barely finish half of the hoagie. The pork was juicy, but bland. Although the menu description promised roasted red peppers and mozzarella, the sandwich was mostly filled with lettuce. This disappointed me since I really liked their cold-cut sandwiches. Even so, the ingredients maintained their fresh quality. The Italian bread had a good crust, and was soft and chewy on the inside. It also held up well to the fillings.
Despite the limited space, Taylor's makes the most of what they have. On nice days the windows are left open, allowing outdoor and indoor space to meld. Space is rarely an issue, though, due to the convenient grab-and-go system
Overall, Taylor's is a bit on the pricy side, but well worth it if you order the right things. The atmosphere of the shop itself is nice, but if it gets crowded, the surrounding outdoor area would make for a great picnic. That being said, it is definitely worth an occasional splurge, and I will definitely be back.