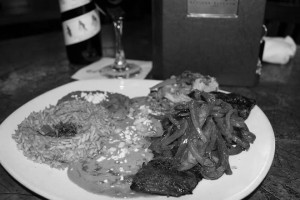 I took on Cyclone Anaya's Mexican Kitchen on one of the most trying days of the year in the restaurant business: Valentine's Day. Located right down the sidewalk from the Angelika Film Center, the restaurant sits right in the center of the high-end Mosaic District in Merrifield. It serves a range of different styles of food, from traditional Mexican to Tex-Mex blends.
Even though the dinner hour was already in full swing by the time my date and I arrived at 7:00 P.M., we still managed to get a table in a little over 15 minutes. While we waited we had the opportunity to buy drinks at their bar, an offer we decided not to take up.
The atmosphere at Cyclone Anaya's is interesting in that it lacks traditional elements of  "Mexican-style" decor; there are no intricate plates on the walls, no wall designs or murals that give a sense of what the restaurant serves. Instead, the burnished umber walls are adorned with modern metal sculptures, and the light fixtures look like something out of an Ikea catalogue. Oddly enough, it's refreshing; it makes me feel as though the restaurant takes itself seriously enough not to rely on campy clichés.
We got a table on the second floor of the restaurant, a half-enclosed balcony that provides a view over the rest of the dining area. We were offered a complimentary carnation as we sat down, and our waiter immediately brought us tortilla chips and a generously-sized bowl of salsa. The salsa was perfect: the tomatoes were crunchy and the sauce contained the perfect amount of kick. Too much kick for my date, though, who teared up after a few chips. Those who aren't well-acquainted with spicy foods may want to go easy.
We chose to skip appetizers, given that the chips and salsa were more than enough. Our entree orders came extremely quickly, which, given how crowded the restaurant was, I found remarkable. I ordered the Carne Asada, a $21 skirt steak topped with peppers, onions and mushrooms that came with a chicken and cheese fajita, a generous heap of guacamole, refried pinto beans and Mexican-style rice. My date ordered two chicken fajitas, which also came with beans and rice. His clocked in at a modest $15. For the prices, it may not seem as though you're getting much bang for your buck; however, as soon as you take your first bite, it all makes sense. Our food came remarkably quickly; we were eating only about ten minutes after we ordered.
My steak was cooked absolutely perfectly; I ordered it medium rare, and even though it looked well-done from the outside it was tender and perfectly spiced. The peppers and onions were an interesting compliment to the meat, providing a burst of extra flavor and texture. The beans were equally delicious, though the rice was on the bland side. The fajita was good, but paled in comparison to the steak. I'm not normally a huge guacamole fan, but when paired with the salsa we were given earlier it was delicious: creamy, smooth, and with the perfect amount of avocado to balance out the spice of the salsa. Although initially I didn't think that there was a lot of food, I found that I couldn't finish everything, and ended up taking home about a third of what was on my plate.
Overall, I was very pleasantly surprised by Cyclone Anaya's. The service, even on a night as busy as Valentine's Day, was impeccable. Our food came very quickly, and the waitstaff was all smiles. My only complaint is that where we were seated was very dark, and as a result it wasn't easy to see exactly what was on my plate. I highly recommend Cyclone Anaya's, and will definitely come back for more.