While northern Virginia may not be renowned for its live music scene, the area actually has plenty to offer—even on Marshall's campus.  Student bands abound; below, R&F introduces you to a few.
Off the Beaten Path
This band's genre is primarily heavy metal and rock; they cite The Foo Fighters and Breaking Benjamin as influences. The band is comprised of junior Quentin Singer (lead guitar), Kyle Fedder (guitar), Jason Kutchma (vocals and keyboard), Dave McAlister (drums) and Noah Saberhagen (bass guitar). They have one original song called "The Fight," the audio of which is available on the band's Facebook page, and they opened for Black Tide on Dec. 4 at a music venue called The Empire.
Brassholes
Brassholes is a funk-rock band that started last year with members in a music class together at Marshall. Band members include juniors Ellen Rank and Alex Evanoff on trumpet, senior Alexis Fahrney on trumpet and mellophone, junior Zayan Ahmed on mellophone, senior Jack Hales on bass guitar, senior Derek Boylan on drums, junior Tommy Neidecker on trombone and Mike Wang on saxophone. They cover some pop songs, are working on some original songs and sometimes collaborate with fellow student band The Thirteenth Story.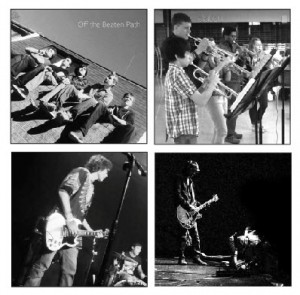 The Electricians
What started out two years ago as an experiment has turned into a pastime for members Derek Hann and Carlos Lopez (guitar), George Valdes (bass) and Kyle Melton and Jake Olson (drums). The Electricians are an alternative rock band influenced by bands like Weezer and The Oddities. They have written five original songs but do not currently have the capacity to record them in a studio. The Electricians regularly play sets at Jammin' Java, a jazz bar in Vienna.
Send my Regret
Influenced by bands like Bullet for my Valentine and Bring me the Horizon, heavy metal and screamo band Send my Regrets rounded out its current lineup this past summer. Members are senior Alex Kang on guitar and back-up vocals, RJ Burdett on guitar, Abby Jarrell on lead vocals and Alex Schick on bass guitar. They are currently working on their first EP.