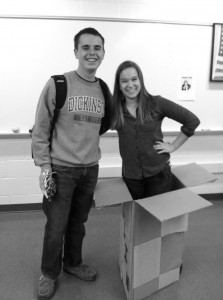 Nearly 350 students bought tickets for the second annual Sadie Hawkins dance held on Saturday, March 8th in the main gym.
The event was organized by SGA member and senior Daniel LaBarbera, who decided to plan the dance "primarily so that students would have something to look forward to during the treacherous third quarter slump."
The money raised from ticket sales will be used for various SGA activities, including the upcoming film festival.
The attire for the event was more casual than traditional dances, with attendees encouraged to break out their sundresses and khakis for the event.
Whereas males are typically charged with the task of coming up with elaborate ways to ask their significant other to school dances, a Sadie Hawkins dance is special in that the girls ask the guys.
"It was kind of interesting to understand how stressful the asking process can be for guys,"  senior Bailey Jarriel said.
Many girls opted to ask their dates to the event by making large posters with cleverly worded proposals. It was not uncommon to see excited couples with said posters posing for pictures that would later rack up likes on Instagram.
"Sadie's just gives girls a definite opportunity to take on the nerve-wracking feat of asking someone to a school dance," LaBarbera said.
While many embraced the idea behind the dance, some took issue with it.
"Overall I'm against the idea [of a Sadie's dance]," junior Claire Miller, who did not attend the event, said.
"I think that the idea that there has to be a dance specifically where girls ask the guys is ridiculous because girls should be able to ask the guys anytime," Miller said.
Jarriel believes the concept behind the dance can be interpreted in many ways.
"Sadie's can be seen as misogynistic or empowering. It's not really one or the other much as both to me" Jarriel said. "It's an opportunity to mess with the balance of things; whether that's in an event that has a sexist foundation or not."