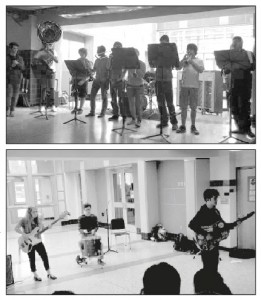 Fifteen student musical acts performed in the atrium during Learn at the beginning of May as part of the school's second annual music appreciation week.
Senior Sarah Kenny organized the event both this year and last year. For Kenny, putting last year's lessons to good use made this year less stressful.
"It was a lot easier this year because I learned the ropes my junior year," Kenny said. "When it's something I'm passionate about, I tend to put it before my school work."
According to Kenny, the purpose of the week is two-fold.
"I want people who have musical talent but don't necessarily have an outlet to show that talent to their friends and peers." Kenny said, adding that the festival was also "for people who don't get to listen to music in a musical class everyday to experience it the way I get to experience it."
Freshman James Jordan had the opportunity to showcase his own talent with his band the  Brassholes. Their musical section included  "Crescent City" by Youngblood Brass Band and "Gibbous" and "Deja Vu" by Hypnotic Brass Ensemble during their 15-minute segment on the third day.
"[It was] a lot of fun to get to play in front of my classmates," Jordan said.  "Most of them haven't heard me play before."
Jordan's band mate, junior Tommy Niedecker, said the goal of the performance was not necessarily perfection.
"We wanted to be in the festival because we just thought it would be a fun gig," Niedecker said.
Senior Zakk August, who watched some of the performances, would like to see the festival to continue next year.
"It's important to keep performing and visual arts a part of the high school experience," August said. "The music appreciation festival provided a great way to incorporate some creative expression into an otherwise normal school day."