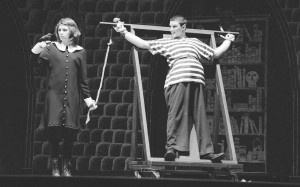 As beloved 1960s TV characters Gomez and Morticia Addams came to life in this spring's production of The Addams Family, the comedic musical rose from the grave to entertain hundreds of students and parents, giving a dark twist to the first blooming week of May.
Performed from May 1 through May 4, The Addams Family depicted the well-known "creepy and kooky" family in a new light, in which daughter Wednesday Addams, played by junior Kailee Sibley, falls in love with an average boy, Lucas Beineke, played by junior Robbie Culbertson.
According to stage manager and junior Kira Robbins, choosing The Addams Family for the spring production was a solid choice due to perfect casting fits between actors and characters.
"We've got Lily Roth, who's definitely Morticia, we've got Kailee Sibley, who is Wednesday to the core, and then we've got Daniel LaBarbera and Marcelo Guzman, who, as Gomez and Fester, are so perfect," Robbins said. "It worked so well with who we were given and who we have."
The comedic scenes proved entertaining for not only the audience, but also the cast members themselves.
"One of my favorite [scenes] was during the dinner scene when Alice, played by Jessica Campbell, drinks a potion and goes crazy," senior Marcelo Guzman, who played Uncle Fester Addams, said. "I just loved watching her transition from a normal person to this psycho-maniac who tells all her secrets."
Compared to last year's production of Legally Blonde, The Addams Family allowed for more student actors to come forward as lead roles.
"There's no one major person leading the show, whereas last year we did Legally Blonde, where there was Elle Woods [who was the biggest role]," Robbins said. "We had such a great pool of people [this year] that we wanted to do this show."
Although there were more lead roles in this year's production, the number of speaking roles overall was much smaller than last year's. The limited number of roles, however, did not hinder the quirky personalities of those in the play.
"Usually with an ensemble you have one group of characters, but what we decided to do was add character traits to the ancestors," Guzman said. "Although there were only nine characters who had speaking roles, the ancestors had their own distinct characterizations."
Despite having a significant amount of rehearsal time, there were some setbacks during the rehearsals.
"We rehearsed every day from 2:30 to 5:30, and there was no rehearsal that we had with the full cast; there was always at least one person missing," Guzman said. "It was really interesting how the show came out without having a full cast rehearsal until the week of the show."
The popularity of the beloved Addams family characters left a lasting impression on those involved in the production. By incorporating such well-known characters, the memory of the TV show and movies easily transitioned into the musical.
"When I was little, I discovered The Addams Family TV show … and I thought it was great and hilarious, so I had a lot of background with the story," Robbins said. "The musical itself is just so hilarious, so just being able to connect that to my own personal childhood was the most fun experience."