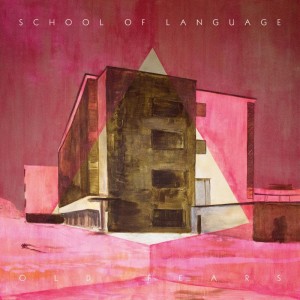 When indie band Field Music went on hiatus in 2007, brothers Peter and David Brewis, its founding and primary members, each released albums individually, exploring their own sounds and styles. School of Language is David Brewis's solo pseudonym, although sophomore album Old Fears includes contributions from Peter Brewis.
The Brewis brothers have always been known for slightly off-kilter pop, and Old Fears doesn't disappoint, kicking off with bouncy opener "Distance Between." Built off of only one relatively short synth riff, the song grows and progresses dramatically with the addition of various guitar, drum and piano lines, although it never abandons its original idea.
"Distance Between" is also notable for its lyrics, which contrast with the catchy instrumentals by exploring the darker side of relationships: "Don't make me explain/I can only lead you on/Don't make me choose to turn away," Brewis sings. They're not the most literary of musings, but against such multi-layered music, simplicity works.
Much of the album is spent occupying the intersection of pop, funk and neo-psychedelia; "Small Words," "A Smile Cracks" and lead single "Between the Suburbs" all feature catchy electronic melodies, even evoking Unknown Mortal Orchestra at times. Old Fears never quite crosses into a radio-friendly territory, though: Brewis pushes the music to its limits, embracing subtle dissonance and jerky tempos without devolving into chaos.
School of Language is at its worst when the band emulates old sounds, such as on "Suits us Better" or "Moment of Doubt." The overlapping vocals are more murky than dreamy, and only muddle the sharp clarity that strengthens so many of Old Fears's other, genre-bending offerings.
However, Brewis redeems himself with "So Much Time," which creates a sound that's big but still manages to retain a minimalist empty space, as though it were recorded in an empty warehouse. It also leads well into closer "You Kept Yourself," a return to the theme of heartbreak and an apt user of a sax solo that lends it a jazzy feel.
Old Fears is not background music; its value lies in the way Brewis has carefully built up piece after piece to create extremely complex songs. It toes the lines of numerous genres, always in the style of the Brewis brothers' constantly-surprising sound. Even with a few lapses in style, it's a solid album, and will surely satisfy fans of Field Music.