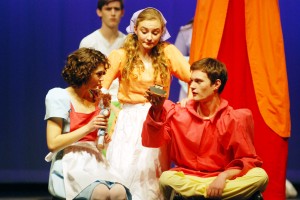 Statesmen Theatre placed first overall at the Capitol Conference One-Act Festival on Jan. 15 for This Is Where We Came In, a quirky 1990 play featuring twisted reenactments of classic fairy tales.
The show opens with several peculiar storytellers (sophomore Anna Brotman-Krass, senior Lily Roth and sophomore Anya Karaman) who force a crew of "story-players" to act out muddled versions of fairy tales such as The Frog Prince and Hansel and Gretel.
According to junior and stage maanger Kira Robbins, one notable aspect of the show was the costumes, which reflected the characters' personalities and power over others.
"The story-tellers were in these bright colors, and then the most muted people were in very muted colors, and I think that was very interesting. A lot of people mentioned that, even though tech doesn't actually come into play at districts," Robbins said.
Director Jason Tamborini also made a bold choice in putting the storytellers on stilts, physically representing their superiority over the story-players.
"The story-tellers are much stronger people, and have more power over the other characters," Robbins said. "I think changing their height proves exactly where that power is—yesterday we were rehearsing without the stilts for a while, and it just felt so different. It felt as if they were equals."
The theatre department faced a major challenge when school was repeatedly canceled this January for snow and ice days, losing them several rehearsals.
"Since we had all those snow days, we only had rehearsal on Friday one week," Robbins said. In addition, "We had never seen most of the schools we were going against, so we had kind of an eerie feeling of, 'What's going to happen?'"
According to Roth, the cast was able to push through the difficult month to produce a great show.
"[The competition] was the first time we'd gotten to perform for an audience, and I think automatically, the moment you're put up in front of people, the energy just grows exponentially," Roth said.