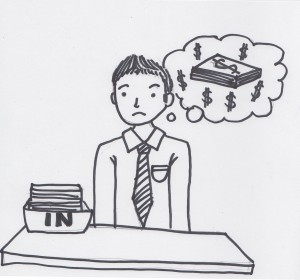 Working a low-paying job is usually not a teenager's idea of a perfect summer. What's the point, aside from making a little bit of money to save up for college?
Many high school students have turned towards a new way to spend their dog days: pursuing an internship that fulfills an academic goal instead of a financial one.
"I think it's definitely good to have professional experience … It's good to start specializing in something while you're young, or at least getting the feel for things," senior Jonathan Helm said.
Even if the internship does not exactly pertain to a student's academic interests, it can still be beneficial in providing real-life skills.
"[My internship] was at a law firm and basically I would do a lot of clerical stuff," Helm said, referring to the summer of 2013. "It definitely taught me the structure and rigidness of law."
Internships are often meant for older high school students and college students, partially due to the necessity of understanding the topic at hand.
"On a case-by-case basis, it could vary a ton, but I know some current juniors who, if they had the internship that I had, they would not have gotten as much out of it as I did," senior Derek Boylan said. "It's more beneficial when you're able to process what you're given and know what kind of learning styles you use."
The maturity level of a student is a huge factor in determining how valuable an internship will be for a student.
"A senior will be more mature than a sophomore for sure, and be more interested in pursuing something that will affect them in their adulthood," Helm said.
Taking a position at a company is much different than a high school classroom environment, according to Boylan.
"In school, you have to cover so many subjects, and it's such a broad thing that you can never really go in depth," Boylan said. "The reason it's so different is that the learning we did [at the internship] was so esoteric; it dealt with very specific things."
But when many internships are unpaid, why do high school students still pursue them?
"[If my internship was unpaid], I still would have taken it because I'm interested in the topic and it does help further my education in physics," Boylan said. "In the long run, it pays off, and that's why you see people out of college still taking internships even though they're losing money, so that eventually they can move up into better and better jobs."
Although internships offer many academic benefits to high school students, and look good on résumés, they are not absolutely essential at such a young age.
"You don't need an internship to get into college … whereas internships in college become way more essential because you need them … in order to get that job once you graduate," Boylan said. "You don't really need them in high school; it's just a nice benefit or privilege."