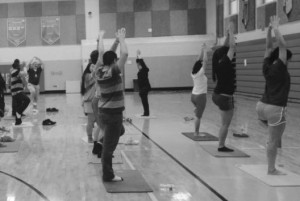 For the second time this year, a counselor-sponsored Wellness Week encouraged stress relief among students with a range of activities.
The week's events varied in terms of attendance, with basketball and yoga drawing larger crowds than in the past.
"The turnout for yoga was a whole lot higher this year," counselor and event planner Gina Fajardo said. "Every year we have a lot of boys that go to basketball."
Senior Alejandra Uribe participated in both yoga and Zumba.
"Most of the time a lot of kids came and relieved their stress, which actually helped a lot," Uribe said.
However, some events drew very few students.
"I tried to go to one of them but no one was there," freshman Tina Le said, referring to a presentation about stress in teens that took place on Friday.
One of the obstacles to the week's success was the challenge of making the events known to the whole student body.
"The only problem was that it would have been better if [it had been] promoted a little bit more. A lot of my friends were like 'oh, I didn't know about it,'" Uribe said.
For those who did participate, a "Stress Meter" was displayed in the cafeteria, encouraging students to put post-it notes on the wall indicating their stress levels on a band that went from green to red.
"I noticed that the post-it notes that were in red dealt with academic stress—tests, IB and things that the kids were dealing with," Fajardo said.
At the week's end, students were polled on which stress-relief techniques had worked for them.
"A lot of kids said sleep, that they just needed to get more sleep," Fajardo said.
This year's Wellness Week also included new staff-oriented events that were available throughout the day, such as free massages.
While the success of individual events varied, the Week overall saw increased participation, and for some students made a positive difference as intended.
"I still felt stressed out because there was a lot of homework that week, but I guess it did help a little bit," Le said.