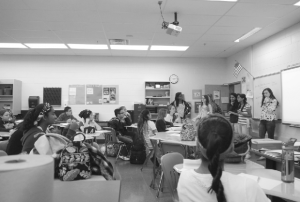 The psychology club is a popular new addition to the school's assortment of extracurriculars, offering new activities that explore human psychology and behavior.
The first meeting took place Oct. 14 during Learn and had a large turnout for a new club, with 45 students filling the auditorium seats.
"Psychology is a hot topic," senior Victoria French said.
Sponsored by chemistry teacher Diane Clark, the club has four student leaders, including sophomores Madhu Sriram, the president, and Elnatan Lemma, the vice president.
Sriram started the club because she feels that her passion for psychology should be shared with students.
Sriram also hopes the club will be a good addition to her resume.
"It will prepare me and others for college and pursuing a career in psychology," Sriram said.
Sophomore leader Taruni Boyalakuntla was surprised to see the number of people who came to the interest meeting; 45 have signed up to participate.
"It makes me happy to see this many students turn up," Boyalakuntla said.
At a second meeting, the group analyzed responses to Rorschach blots.
"The club promotes making friends and expanding social understanding," sophomore leader Shaazia Ahmed said.
The Psychology club primarily covers the study of human behavior. It focuses most of its attention on hosting guest speakers and planning field trips.
The group plans on attending their first field trip in a month.
"In a time where students are in need and are stressed out, there will be guest speakers to give them insight and advice," Lemma said.
The club needs financial support to stay functioning and has been brainstorming a few ideas to earn money.
The club discussed plans to hold a bake sale at a local Giant or Walmart on Saturday.