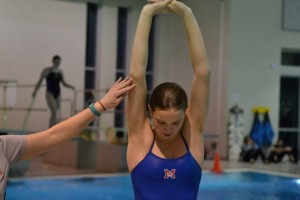 It's called the swim AND dive team. But what you may not know is that diving is only worth the points of one event, compared to the 11 swimming events that generate points.
With many close results in the meets, the team has relied on the extra points from diving to put them on top.
"They really count on us to sweep; that's really the only thing we can do [get first, second, and third]," senior diver Will French said.
However, according to French and junior diver Bryce Shelton, the points don't make enough difference.
"It contributes some points, but I don't think it contributes enough to help us make a great impact," Shelton said.
Divers like senior Mary Hagopian want their hard work to be acknowledged. "I think it should count for more than it does, because I think there's a lot more that we do than swim," Hagopian said.
Despite wanting more recognition for their work, French says he would miss the communal aspect of the team if swimmers and divers were to compete separately. While French's main event is diving, he also competes in swimming events.
"It would kind of take away from the fact that it's one big team and you have to cheer on your teammates," French said.