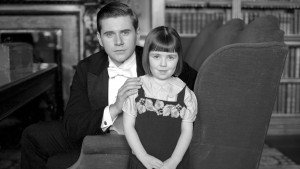 After its riveting premiere and dramatic (if awkwardly placed) plot twists in seasons three and four, Masterpiece's production of Downton Abbey is finally meeting middle ground.
Season five starts five years after the war. The Grantham family continues its struggle to maintain the estate while adjusting to the new social climate. Faced with the decreasing value of nobility, patriarch Robert Grantham (Hugh Bonneville) becomes increasingly terrified of losing the estate and his marriage.
This season mostly revolves around resolving plot conflicts from previous seasons: Isobel Crawley (Penelope Wilton) is entangled in a love triangle as she recovers from her son Matthew (Dan Stevens)'s death, while the Dowager Countess (Maggie Smith) reveals a past that parallels her granddaughter's romantic escapades. Under the estate, Anna (Joanne Froggatt)and Bates (Brednan Coyle) rekindle their relationship as the police investigate the mysterious death of Anna's rapist. Daisy (Sophie McShera) seeks more than a provincial life as a kitchen maid.
Mary just barely escapes her depression after Matthew's death, only to find herself falling back into the flighty and impulsive habits of her youth. Meanwhile, Branson meets a similar mind; schoolteacher Sarah Bunting (Daisy Lewis) clashes with the Crawleys and reminds Branson of his more radical past.
As always, Masterpiece's production is spectacular. Each season manages to show the fast-changing culture of the 20s. The subtle changes in costume, particularly of the younger female characters, showcase their newly empowered lifestyles.
For a show that takes so much care in historical accuracy, the plot is lackluster in comparison. The show attempts to defy social conventions and bring up heavy topics, but its strong point is purely aesthetic.