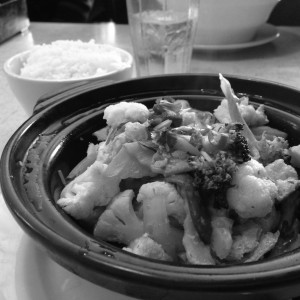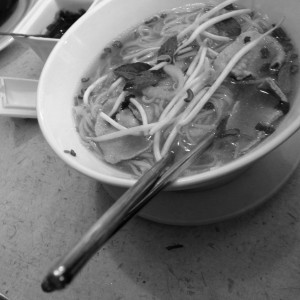 Though you might be deterred by the dingy outside appearance, the interior of Viet Aroma is warm and inviting. We were greeted by painted murals and Christmas lights decorating the walls.
The menu is almost overwhelming; there was a variety of traditional Vietnamese dishes for us to choose from. The store doesn't specialize only in pho; it has a wide array of stir fries, meats, appetizers and more to sate the palate, including a good selection of vegan and vegetarian options for the pickier diner at your table.
Camille and Isabelle went vegetarian and ordered a stir fry lunchbox and tofu clay pot dish, respectively. Anna stuck with a classic pho dish. All of the dishes were of consistently good quality, if not particularly inventive.
The lunchbox was pleasingly spicy, although the salad included was mostly composed of lackluster iceberg lettuce. However, the portion was more than enough, and the stir fry made up for its weaker leafy counterpart.
Isabelle's dish came with well-fried tofu, a pleasing foil to the surprisingly fluffy rice. It appealed even to Isabelle, normally a staunch opponent of tofu.
Anna's pho had a sweet broth that bordered on cloying, but was saved by the inherent virtues of pho as a dish.
All in all, we would recommend Viet Aroma to anyone looking for a standard, if generic, Vietnamese cuisine. The food was pleasant but shouldn't be confused with adventurous, and the variety of dishes means the menu won't get boring.