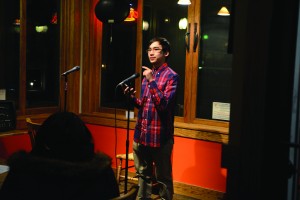 Quills to Keyboards, the creative writing club, gave students an opportunity to share their writing with the local community by hosting an open mic night at Caffe Amouri in Vienna.
Preparations for the event, which took place on Feb. 6, began in September after club president and founder Olivia Dabich, junior, attended the U.Va. Young Writers Workshop.
"[An open mic night] was something I was always adamant about doing from the start," Dabich said.
Dabich was inspired to host the event after attending the workshop.
"It was so popular they had to have a raffle," Dabich said about the U.Va. event. "I just saw … how it brought the community closer, and I really wanted to emulate that with my own club."
The club was formed this year after the cancellation of the creative writing elective, but it has already made significant strides.
Dabich attributed the club's success to its sponsor, English teacher Martha Noone, who was "really supportive with getting the club off the ground and instrumental in helping me develop as a writer to gain the confidence to start the club."
Noone expressed how much she enjoyed her role as club sponsor.
"I love working with young writers, so it's always rewarding," Noone said in an e-mail. "I don't participate in their writing groups because they are peer-based, but I love the energy and enthusiasm in my room when the group(s) meet."
Witnessing the growth of the club was akin to witnessing the personal growth of its members.
"They considered themselves people who wrote, and now a lot of them consider themselves writers," Dabich said. "And I think that speaks volumes [about] the confidence they gain from being in a tight community that's supportive."
The open mic night was both a testament and milestone of the club's development.
"It allows writers to vocalize their work and finally say it to an audience," Dabich said, describing the value of an open mic night. "It's cathartic."
Dabich pointed out the sense of accomplishment that comes from doing a reading at an event like this. Besides empowering writers, it can also be a meaningful opportunity for them to grow through constructive feedback.
"It's really beneficial as a writer to see the unfiltered reaction of the audience," Dabich said.
A Night at Caffe Amouri
Sophomore Najma Omar described the nerve-wracking process of reading her poetry in front of a group and pulling back the curtain to reveal a more personal side of herself.
"It's like putting all of your emotions and all of your feelings and everything that you are out to strangers," Omar said. "It's kind of intimate but kind of intimidating at the same time, but after you do, you feel a surge of adrenaline."
Omar highlighted the difference between writing and reading her poetry  and the unique benefits those two experiences entailed.
"Writing helps me release those emotions and reciting those emotions helps me share myself," Omar said.
Freshman Matthew Harrington read a screenplay instead of poetry or short stories.
"I was playing around with the idea for a long time, but actually what it came down to was I was sitting in a summer class and I had gotten ahead of the rest of the class," Harrington said, "so I opened up my screen-writing software and I started writing."
Harrington, who is also a club officer, said the club members get together monthly and share their writing. He finds this process incredibly helpful.
"I'll write something, and I'll never even realize it has this huge, glaring problem in it," Harrington said. "But you'll share it with someone and you'll immediately notice."
Both Omar and Harrington faced the challenge that comes with sharing their work in front of an audience, but they still enjoyed the opportunity to express themselves.
"It's scary, really, it's scary to show your writing, what you've been pouring your soul into, in front of complete strangers," Harrington said, "but it's nice to see people appreciate your writing."