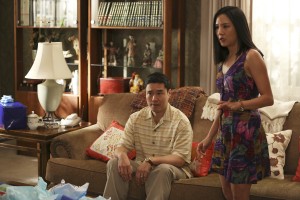 When Chef Eddie Huang wrote his autobiography Fresh Off the Boat: A Memoir, he couldn't have known that his Taiwanese family would win the hearts of television viewers across America just two years later. He couldn't have known this fact nearly two decades earlier in his formative childhood (when the book-turned-show takes place).
The show Fresh Off the Boat adapts Huang's salad days in the Floridian suburbs of Orlando. An older, fictionalized Huang narrates with humor and verve, the struggles of his first generation family.
Fresh Off the Boat is stands out due to its dauntless approach to topics like immigration and race. Not since, well, ever, has an Asian family been represented on American television with the same critical and far-reaching success (though comedienne Margaret Cho's All American Girl came close).
While stereotypes are a large part of what makes the show funny and relatable, they are never the crux of the joke. Rather, the show pokes fun at the absurdity of a deracinated family in an unfamiliar terrain of rollerblading soccer moms. What seems normal to one family is absurd to everyone around them, and vice versa.
Fresh Off the Boat can joke about "success perms" and CLC (Chinese Learning Center, an after school math class Huang's mother Jessica, played by Constance Wu, enforces after her sons ace their "too easy" school curriculum) because it so well understands the intentions and ambitions of Chinese-American parents, and doesn't just mock their actions. While Jessica arguably plays into the tiger-mom stereotype, she is never defined by it. Rather, she is defined by her unwavering affection for her family.
Perhaps the show, with its tender portrayal of 1st and 2nd generation immigrants reminiscent of Bend It Like Beckham (2003), is a milestone in Asian representation, but Fresh Off the Boat has stumbled in and out favor to Asian Americans. Most notably, Chef Huang himself.
The show's official twitter account posted an advertising graphic that claimed everyone's "a little fresh off the boat," which featured simplistic depictions of different ethnicities in headwear that ranged from sombreros to bamboo hats. Huang rapidly replied to the tweet to express his distaste over the graphic. The post was deleted soon after the resulting conservation that followed about how reductive it seemed.
This wasn't the first time the Huang and the showrunners have dealt with offensive statements based off of ignorance. At the show's first panel in Pasadena, the first question was asked by a nameless reporter: "I love the Asian culture. And I was just talking about the chopsticks. And I just love all that. Will I get to see that? Or will it be more Americanized?"
When it comes to American television, minority representation must be consumed with a side of tasteful dialogue.
With the show wrapping up at the end of the month, there's still plenty to talk about. If the show is renewed for another season, then the creators will have a fresh slate. When they do, hopefully they will mind the audience.