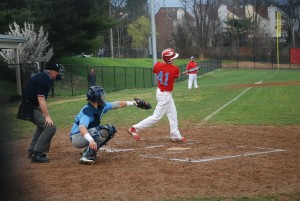 The first junior varsity baseball game of the season was March 24 against Madison and resulted in a tough 7–1 loss. The team is largely inexperienced, but they are working to overcome this obstacle.
Despite the loss, head coach Pat Tarr sees significant potential for the team with the less experienced underclassmen.
"I think that we, for the second year in a row,
have a strong freshmen class, which is why we have strong potential baseball players out there," Tarr said.
The team is picking up technical skills quite easily, even though they did not have as much time as they wanted for practice due to inclement weather. The practice time rescheduling forced them to practice with the varsity team in the gym.
"We've worked hard on the basics and implemented some of our strategies," sophomore Bo Hann said. "Our pitching staff has had plenty of bullpens and we've got a lot of swings in the cage."
Though the JV team doesn't have the most experienced players, it gives the underclassmen a chance to lead and work together, according to sophomore Nick Monfort.
"Our sophomores this year have matured from last year, and the freshmen are really stepping up this year," Montfort said. "I'm really proud of the team so far; Marshall baseball will have success for years to come."
Sophomore Owen Schaefer believes that team has proved to be incredibly diligent.
"The baseball team in general at Marshall is a pretty friendly group of guys and I would say that is true for this year as well as last year," Schaefer said. "The environment has stayed pretty consistent, which is work hard and play together."
Freshman Brendan Dudding is eager to further his baseball skills.
"I just really look forward to putting everything I have out on the field and learning from the great coaching staff we have here at Marshall," Dudding said.