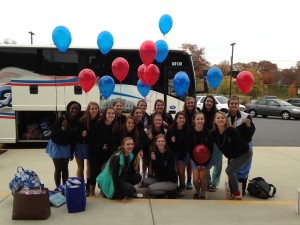 When it comes to spirit packs, athletes jump at the chance to sport their team's logo around their community and at school.
However, the highly regarded advantages of spirit packs come with a hefty price tag that may deter some athletes from purchasing the packs.
Perspectives on the expense of the spirit packs vary between athletes.
Sophomore and three-season track runner Logan Murtha acknowledges the high prices, but sees them as as a benefit, as the profits will eventually help the athletic program.
"They're a little pricey, but I don't look at that as an issue, since the proceeds go to the Boosters, which benefits us," Murtha said.
P.E. teacher, freshman football coach and assistant swim and dive coach Matthew Hochstrasser shares similar views with Murtha that the costly prices are in fact worth it.
"I believe they are worth the price that athletes pay for them," Hochstrasser said. "It gives the athletes a uniform they can wear in and out of school to show their support and commitment to the team or school."
Despite the unity and comradeship spirit packs bring, some people believe the prices are just too high.
Sophomore and returning varsity soccer team member Margaret Lister agrees with the idea that spirit wear promotes team morale, yet believes that the appeal would be greater if the prices were decreased.
"I think that they're great and show the team as a whole, but they'd be even better if they cost less," Lister said.
Regardless of the high prices, spirit packs continue to be a major motivating factor for students to participate in school sports and are widely popular among the collective student-athlete body due to the school spirit they encourage.
"I think it's really important that teams look like a unified group on and off the field, court, track, etc," Murtha said. "It encourages support and focus long before you start playing, even if you do an individual sport."