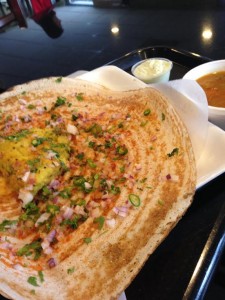 Whether or not you're a vegetarian, you should try out Amma Vegetarian Kitchen in Vienna. The authenticity of their South Indian food is evident even before you take your first bite. As soon as you step into the restaurant, you are greeted with the smells of strong curry reminiscent of the way my Tamil grandmother's house used to smell.
Even more appealing are the prices. You are able to get a dosa, or Indian-style crepe, and a starter for well under 10 dollars. The menu is short and the entrees all come on a dosa, but what they don't have in variety, they make up for in quality. The dosas are warm and crisp on the edges, but soft in the middle—easy to use as a wrap for the filling. Isabelle got a plain dosa served with a coconut-based chutney and sumbar, a lentil stew. The cool chutney and warm sumbar mix to create a balanced and flavorful bite.
I got an onion chili masala dosa, a mixture of spiced mashed potatoes and onions with some added chilis for heat. I perhaps overestimated my spice threshold and was forced to scrape off some of the chilis, but still enjoyed the dish. While somewhat time consuming and messy, wrapping some of the potato mixture with a piece of the dosa and dipping it into the chutney and the sumbar creates the perfect bite. For a milder version of this delicious entree, try the masala dosa.
Camille got a paneer dosa that came with the same sides. The dosa was filled with spiced potatoes and paneer cheese, a traditional South Asian mild cheese. The combination provided a balance of spice indicative of the dish's roots, but not enough to set your mouth on fire.
If you're looking for a traditional Indian bite on a budget, Amma will deliver.