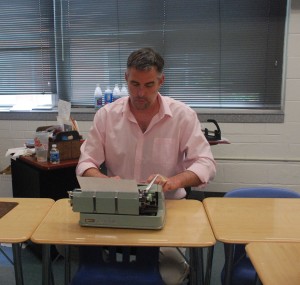 Fairfax County is widely known as one of the best school districts in the country, currently ranked sixth overall in the state by Niche.com and first for preparing high school students for the college curriculum and for college resumes, which helps ensure student success in the long run.
Often, graduates from the Fairfax County school district give back to the district by coming back to their area to live and teach.
Algebra teacher Gabi Rangel-LaFuente, for example, decided to stay in the area for her career and to stay near family.
"I had a great high school experience and wanted to give back and hopefully contribute to a great experience for others," Rangel-LaFuente said. "Marshall was a great place and still is a great place."
Director of Student Activities Joeseph Swarm also stayed in FCPS to return the favor.
"FCPS has always been an incredible education and respected nation-wide," Swarm said.
"I took that education for granted until college," he added, "because it was all I knew. In my classes, I was clearly more prepared than the non-FCPS students. We had a much stronger education as compared to our counterparts nation-wide and I believe that is still the case. Just more technology and a faster pace."
Even as FCPS changes geographically and technologically, it retains the same spirit that it has always had. With technological advances come new opportunities for students as well as teachers.
"Developments in technology, such as phone apps, iPads, and the Smart Board are what most impact my career," Rangel-LaFuente said. "I make an effort to use QR Codes and other technology to make the learning more engaging."
Even with new technology, some aspects of high school are similar to the ones teachers experienced as students.
"Some things have not changed: for instance, as a junior I punched a typewriter with my index fingers in Mrs. Rowe's class; today I hit a computer keyboard with those same index fingers in my office about 100 feet from Mrs. Rowe's old classroom," Swarm said.