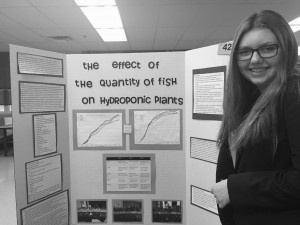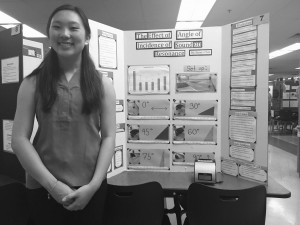 The second annual honors biology mock science fair took place May 5. The fair is a way for freshmen biology students to prepare and practice for the judged science fair they participate in as sophomores, juniors and seniors.
The Fairfax County science curriculum dictates that all freshmen in honors biology are required to take part in an externally moderated activity.
In past years, biology students met the requirement by participting in an arabidopsis project. The project was done in tandem with researchers at Virginia Tech to study the way altering certain genes would affect a plant's ability to function and its interactions with its surroundings.
"We realized that outgoing freshmen were still ill-prepared for science fair, especially their sophomore year, because they had never experienced something of that magnitude," biology teacher Steve Obringer said. "We decided the best course of action was to re-implement the freshman science fair to give them some practice and experience to better prepare them."
The freshman science fair requires the students to choose their own question, conduct research, create a procedure, conduct their experiments and then record their results and present their work.
"It's good practice, but I'm not sure if it's necessary for our learning this year," freshman Emma Choi said.
Obringer emphasized the freshman science fair's role in promoting independent work habits.
"Our goal is to instill in them the ability to conduct and create a research project creatively and independently," Obringer said.
The only difference between the freshman science fair and the later one is the writing aspect of the project.
Freshmen must write a brief summary introducing their topic, but are not required to turn in a final research paper.
"It's more about the experience in the presentation process rather than the writing process," Obringer said.