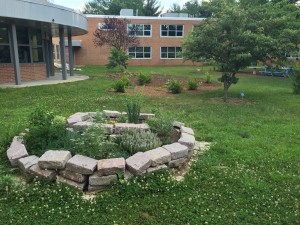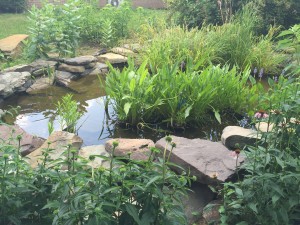 On Sunday the Native Species garden, located in the courtyard across from the library, was featured in Fairfax County's annual Sustainable Garden Tour. Visitors stopped by the garden anytime from one p.m. to five p.m. before moving on to the other seven garden sites situated around Fairfax County.
IB Environmental Systems and Societies teacher Barbara Brown was in charge of gathering volunteers to serve as tour leaders and creating handouts for the visitors to follow along on. Although the tour was mostly self-guided, the volunteers were at hand in case visitors had any questions.
One specific feature of the garden was identification signs that informed onlookers about the scientific names, characteristics and values of the plants. Another feature was the spiral herb garden, where herbs were planted in different sections along the spiral. The spiral form was used to take advantage of drainage during rainfall; the most tolerant herbs were planted at the top while the less tolerant were planted further down where more water would drain.
The tour was not only limited to the Native Species garden. Tour leaders also took visitors to the Green Roof, which is a garden planted above the insulation on a section of the roof, and the front parking lot, where the the pavement is porous, meaning that it absorbs car oils and drains rainwater, therefore lowering runoff.