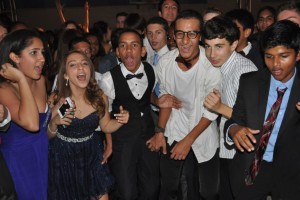 The Homecoming dance was on Saturday, Oct. 17 in the auxilary gym. Starting on the streets of urban New York City, spirit week made pit stops in vibrant Miami, animated Hollywood and ended in Washington D.C.
The momentum from spirit week and the Homecoming varsity football game victory carried over to Saturday night's dance.
"Everyone really pumped up their spirit to a new level to make this time around just as hype as past years," sophomore and Student Government Association member Emma Choi said.
The hallways displayed a prominent Hollywood theme, complete with a red carpet and personalized stars from the Walk of Fame. Two large Oscar award figures stood on either side of the DJ booth and a red curtain backdrop gave the gym a theater-esque feel.
"We hired a good DJ who is pretty hip and knows all the music that people would like to hear," junior Allison Park said.
Radio hits that were easy to sing and dance along to, such as "Downtown" by Macklemore and Ryan Lewis and "Can't Feel My Face" by The Weeknd, created a consistently crowded dance floor.
"My favorite part about homecoming was the way all of us interacted at the dance; there were no divides between classes or social groups, we all just laughed and danced in a huge circle. The freshmen dance off perfectly completed the night," junior Claire Heiden said.