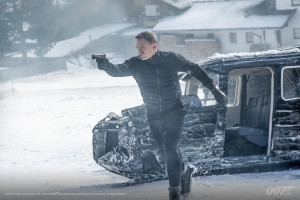 Daniel Craig's three-year hiatus from the the role of British spy James Bond came to an end with the Nov. 6 release of Spectre. The movie made a box office splash, making $68 million in the opening weekend according to The Economist. While the film looks great and hits all the beats that a good spy movie should, it still fails to fully develop its characters and develop a coherent storyline as a result.
Genius gadgetry, high-octane action scenes and copious car chases are the usual hallmarks of Bond films, and Spectre mostly stayed true to form. Its $300 million budget places it as one of the most expensive films ever made, beating the previous record set by Pirates of the Caribbean: At World's End with $341 million, according to Business Insider. The budget was used for the commission of a discontinued Jaguar C-X75, the massively complicated opening sequence featuring over 1,500 extras, 10 giant skeleton props measuring over fifty feet each and 250,000 paper flowers.
Another notable component was the forgettable supporting character Lucia Sciarra, played by Monica Belluci. At 50 years old, Belluci is the oldest Bond girl yet and was also one of few since the turn of the century to have such a brief role. Bond seduces her shortly after he kills her husband and has very little influence on the plot. This is unfortunately reminiscent of the older, sixties-style Bond films in which the female characters existed purely or primarily as single-use characters with a few minutes of screen time as eye candy. The filmmakers appear to have attempted to balance the outdated display with the clear skill and intelligence of the Harvard-educated, multi-layered main character Dr. Madeleine Swann, played by Lea Seydoux, the daughter of former series antagonist Mr. White.
A good aspect of the movie was the heavy emphasis on aesthetic, as it is filled with clean lines and smooth curves in many significant scenes, but still not afraid to display destruction and grit on a massive scale.
However, what made the movie was the soundtrack. Thomas Newman's score kept with the sixties-inspired beats scattered throughout the film, with the final film containing over 100 minutes of music.
Overall, Spectre could have been better, but it remains a worthy addition to the Bond canon.
---
Rating: 4/5