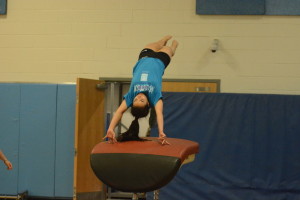 While gymnastics won the conference title the past two seasons, filling the roster has become more challenging.
Athletes who were previously on the team are slightly concerned about the lack of interest, but understand the difficulty of joining the sport.
"I think gymnastics is a sport where it's hard to pick up on," sophomore Megumi Matsuda-Rivera said. "You have to have some experience to be interested in it."
Past practice in gymnastics is not the only factor holding people back from joining the team.
"You could get hurt," Matsuda-Rivera said. "A lot of gymnastics involves falling."
In addition to gymnastics being a tough sport, the team has a new coach this season. Christie McCormick is a social studies teacher who previously competed at the high school and college level.
"I competed pretty much my whole life, and in college where I competed with the team at the University of Virginia," McCormick said.
The team is largely excited for McCormick to join the team.
"She is really knowledgeable about the sport and she seems like a super awesome person," senior Carla Castegnaro said.
McCormick is a good friend of last season's coach Charlotte Perpall, and the girls have high hopes that she will be equally as successful.
"Coach Charlotte was like a mom to us," Matsuda-Rivera said. "I'm looking forward to the new season with a new coach."
Searching for a new coach after Perpall left was surprisingly less challenging than expected.
"Typically finding a head gymnastics coach is very difficult" director of students activities Joseph Swarm said.
Some schools go months without finding anybody to fill the position. Varsity gymnastics has had to pair with McLean High School in the past because of trouble in filling a coaching position.
"Our search panel believed [Marshall] to be extremely fortunate to have a teacher on staff with Mrs. McCormick's wonderful gymnastics credentials," Swarm said.
As for McCormick, the decision to coach was an easy one.
"I just loved the students and atmosphere at Marshall," McCormick said. "So much that I couldn't imagine not taking the opportunity to get more involved in the school."
There is added pressure to win the Conference 13 title for the third year in a row, but McCormick is confident in her team.
"I am hoping to be able to coach them to another championship no matter what," McCormick said.