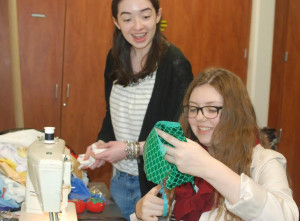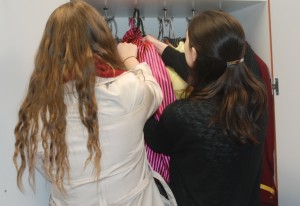 Behind the feathers and fabrics of every theater production is the work of sophomore Courtney Johnson and senior Sarah Boyle. Heads of the Costume Department and full IB and IB track students, Johnson and Boyle spend a majority of their free hours developing concepts, themes, and pieces for a wide spectrum of shows ranging from Legally Blonde to The Addams Family.
Being a senior, Boyle has many years of costume design under her belt, and she knows the ins and outs of finding the right material for the right price. She focuses on incorporating a strong idea and creative thought into the process.
"A lot of it is finding something you can work with. It is finding an element that you are looking for, whether it is a pattern or a color or a material," Boyle said.
Johnson sees the creative process as an important piece of her experience with design.
"Most of the time the costumes allow you to take the people, the characters, to the next level and it is really exciting to make that transformation," Johnson said. "And you to be the one that does that, and play around with it."
According to Boyle, the vision and execution of the costumes always shines through and plays a transformative role for the actors.
"You can see it in the actors when they put on their costumes and they become more immersed in their character when they have the costume to be playing off of," Boyle said. "I think maybe it is because they feel a little less like themselves, and they feel maybe less self conscious, and it feels more real."
Although Boyle has more experience, having designed for 11 shows in her four years at Marshall, the future of the Costume Department lies primarily in the hands of the newer recruits like Boyle who spent the past year learning the ropes to take over after graduation.
"Coming in, I got to work with Sarah one on one, which was really cool. She has done so many shows, it is really great to learn about how it works," Johnson said. "But it is nice to get responsibility, and feel like you are a part of the show, which you really are."
Looking at the future, it is Boyle's plan to pursue some theater design in college. Although both shared possibilities of costume design after high school, the emphasis for Johnson was on enjoying Arts for pleasure.
"I think getting do this right now is such a fun thing even if I don't go into theater design as my college degree, I'll still love going to see shows and I will still want to be involved," Johnson said.
Upcoming projects such as the One Acts in late January are the next focus for the Costume Department heads, and designs are already in the works, pulling from the game Dungeons and Dragons for inspiration.
"With the one act that we are doing this year it is all based on dungeons and dragons. The game is all about creativity and your own character so we just kind of played with that," Johnson said.
According to Boyle, script work helps outline a strong theme, as well as a gut feeling.
"A lot of the time, at least with the shows we have done recently, there have been some things where it was directly in the script," Boyle said. "But in the end, when you read a script and it is really good, you have a gut reaction of, this is what you know you should do."