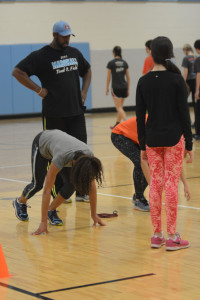 With the onset of cold winter weather, even simple outdoor activities can be a struggle for athletes to deal with. When it comes to high school sports, however, track faces the cold head on.
While most people would bundle up when heading out into the cold, most indoor track members try to run with less than three light layers to maximize their performance.
"I personally enjoy running in the cold more because there's less sweating and I can breathe better, which allows me to run faster," senior Mariam Sargsyan said.
Even though track members try to practice outdoors in most weather conditions, certain conditions do cause them move their practice indoors for safety and practicality reasons.
"We only run in the gym if it's snowing. Not necessarily if it's cold outside," sophomore Logan Forney said.
Even when these extreme conditions do sometimes happen, practice in the gym can still be just as intense as outdoor practice. Athletes still continue their standard drills.
The distance team, however, does need to sacrifice certain aspects of their training in extreme weather circumstances.
"The distance team's practice is different just because we can't physically get as much distance inside because the area is very limited," Sargsyan said.
"Instead of getting distance in, we work on our speed."