Following losing seasons, boys varsity basketball rebounds while girls focus on individual victories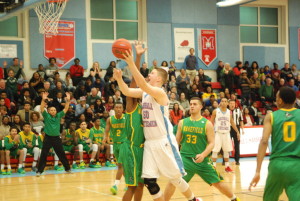 Boys recover from 2015 with best season in decade
In the 21 games of their regular season, varsity boys basketball racked up nearly as many wins as their past two seasons combined, finishing with an 18-3 record.
Team captain and senior Chase Barrand credits much of the team's success to the experience of the current team, which has helped lead to better team cohesiveness.
"A lot of key players are older this year," Barrand said. "Our starting lineup is four seniors right now, and because of this experience we've been playing really well together. Everyone knows their role on the team, whether to be a defensive player or a scorer."
With eight out of the 14 players returning from last season, the coaching style has been optimized to fit this more experienced team, allowing for greater player freedom and flexibility.
"For me and for our coaching staff, since this is a very different team than we have had before in terms of size when we went into this, we had to adjust to that," head coach Dan Hale said. "We have done a good job at letting the shooters shoot and putting in offenses to help highlight our big guys. We're a different looking team than we've been in the past and we had to adjust to that."
The different style of coaching that comes with the more experienced team has come to benefit the players greatly, allowing them to be themselves on the court.
"Coach Hale has done a great job so far in being more lenient in letting the players do what they do best," Barrand said. "We're allowed to shoot more threes and we're more relaxed on the court, which gives us more confidence and helps us perform better as a team."
The team won 18 out of their 21 regular season games, with one of their losses being by only one point and the other two being within 11 points.
"We thrive on our defense," senior Tyler White said. "We are still finding our way on offense, but our defensive play helps us get steals which creates the majority of our offense."
---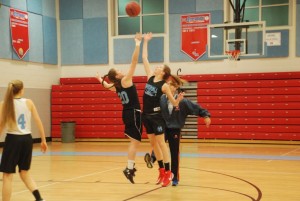 Girls grapple with young team, new coaching staff
After a loss in the first round of the playoffs to Wakefield High School, the girls varsity basketball team ended its regular season with an accumulated five wins and 17 losses.
Juniors Kristen Tillman, Kylie Hardin, Olivia Barrand and Leah Walters were co-captains of the team, whose members ranged from freshmen to juniors but notably lacked any seniors.
Although the team experienced more losses than wins this winter, athletes agreed that their biggest victory was against Thomas Jefferson High School in January, when the Statesmen won in overtime.
According to Barrand, the team coped with losses by hitting the court and working harder to improve.
"We may not be winning a lot, but we are getting better," Hardin said.
Part of that, according to Hardin, is due to the new coaching staff, as well as her parents support. They managed to beat out their biggest rival, Falls Church High School, midway through the season, with an edge of eight points. The team's goal is to now continue to grow and generate more victories in future seasons.
"I hope we can finish off our High School basketball years with as many wins as possible," Walters said.