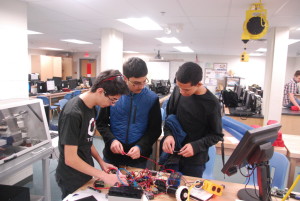 The Robotics club, led by president and sophomore Julia Kroeper, began working towards their goal of competing on an international venue.
"Robotics club is a division of FRC, which is an international robotics competition," Kroeper said. "The competition this year is called 'Stronghold,' and we will be building a robot to attempt to take down a castle-like structure."
The club, which has attracted over 30 members and has been meeting after school daily in room B106 since the beginning of this year, has worked since the end of December on actually constructing their robot.
"We have until the end of February to finish building the robot," Kroeper said. "After that we do coding, PR, basically all the things we didn't have time to do during the building phase."
According to Kroeper, working and competing in these events help build valuable life skills in the fields of engineering and coding.
"We've had club members to go on to win scholarships for college based on skills they learned in robotics. It really does help," Kroeper said.