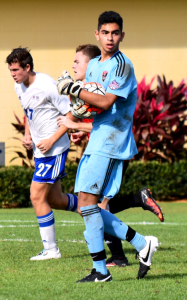 As most juniors prepare to take their first SATs, junior Nabil Milani has already finished his college admissions process with a scholarship to the University of North Carolina Asheville. Yet while Milani's talent on the field is largely responsible for his offer to play Division I, soccer is more than just a sport for Milani as it pervades numerous aspects of his life.
"Soccer is my life because I have been playing for so long and it is a part of me, and like everything I do in my life is based around soccer," Milani said. "I love it, I love watching it, I love playing it, and I loving coaching it."
Milani, however, was not always a goalie growing up as it took a coach to help Milani realize his potential at a young age.
"When I was younger I was a field player, but I was not the best at field so my coach said 'who wants to hop in the goal' and I said 'I can give it a shot,' and I did pretty well," Milani said. "I loved it and I just felt it was really fun because there's pressure on you, but there also could be the fame of it."
Milani joined the varsity soccer team as a freshman, and along with last year's conference championship win he says the highlight of his career as a Statesman thus far came in a game against Madison sophomore year.
"Against Madison we were tied 0-0 in the first five minutes," Milani said. "They had a [penalty kick] against us and I saved it, and we went on to win the game. That was a pretty big moment because I was a sophomore playing with these older guys, it felt great to actually contribute."
While high school athletes are not allowed to directly contact college coaches until junior year, there is a commonly used system to get around this rule by having coaches act as a messenger between college coaches and athletes.
For Milani, the college recruitment process began at the end of freshman year and it required persistence as well as a commitment to traveling frequently.
"It's a difficult process you know. You need to travel a lot, email coaches, make sure they see you," Milani said.
When it came to deciding on which college offer to take, his decision was based on more than just the current ranking of the soccer teams.
"I feel that University of North Carolina Asheville is the best option for me because they are a pretty good liberal arts school and their soccer team is rising up," Milani said. "They brought up a coach from L.A. Galaxy and he saw me play a while back and said 'yeah we want to see you play a little more,' and I went to a camp and they just offered me it."
While Milani has gotten a lot out of playing soccer, he has also made sure to give back to others through his passion for the sport.
" I went to Nicaragua over the summer and I went to the schools and did soccer with them," Milani said. "I taught the kids not just soccer, but also life lessons and school stuff, about teamwork, about hard work, about passion. If you have something you do, you chase your dreams."
Milani has also worked with young kids in the local area as a coach and mentor.
"I coach little kids, about eight, seven years old for fun," Milani said. "I've been doing it for two years and it's really fun working with those kids. The best part of coaching is the enthusiasm that they have when they are so young."
Milani is not certain yet if he desires a career in soccer, but he has already begun to look to his future after college with the sport.
"I've been talking to some coaches in Iran about going to play for the U-17 national team," Milani said. 'So I could potentially be at the 2022 World Cup if everything goes to plan."