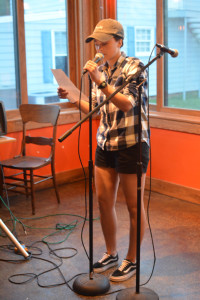 For the second consecutive year, creative writing club Quills to Keyboards held an Open Mic Night at Caffe Amouri on May 28. Performances ranged from prose and poetry writing to musical numbers, and included people outside of Marshall alongside club members. The event ran from 7 p.m. to 9:45 p.m.
Senior Olivia Dabich, club president and event coordinator, organized the Open Mic Night by confirming with the manager of Caffe Amouri that this particular Open Mic Night would be affiliated with Marshall, as Caffe Amouri holds public Open Mic Nights every Saturday. She also acted as the event's master of ceremonies and introduced each participant before they performed their piece.
"I think we had a pretty good turnout, just because the people in our club are so committed to it and love Open Mic Nights," Dabich said.
Junior Najma Omar has performed at Quills to Keyboards' Open Mic Night both times and sometimes reads at Busboy and Poets, another restaurant that holds opportunities for people to share their writing. Omar has also read her poetry at other open mic nights at Caffe Amouri that were not through Quills to Keyboards.
"I was inspired by Pablo Neruda and how he does a lot with nature," Omar said, in reference to one of the poems she read, entitled "The Hijab, the Wind and I: A Tragic Love Story."
Sophomore Masha Timina did not participate in last year's event, but heard about the opportunity through club member and sophomore Emma Choi the day before and was prepared to perform despite the short notice.
"As a writer, I have a running collection of different pieces or scraps of pieces [of writing], whether it's in the notes app on my phone or in a journal," Timina said.
While Timina has an interest in writing, she hadn't read her work for an audience prior to the event.
"I was really nervous because I hadn't been on stage like that with a microphone and people watching me for a while," Timina said. "But the second and third times were much less nerve-wracking because I got more comfortable with the atmosphere and the people there."
Sophomore Julia Hales was also a first-time performer and was similarly struck with stage fright, but opted to do an improvised piece, utilizing techniques to stay focused while speaking to an audience.
"I kept my glasses on because I'm most comfortable with my glasses, and I didn't change myself in any way, and I just pretended I was talking to somebody," Hales said.
Hales primarily drew inspiration from her older brother for her improvisations.
"He's always been there for me, so I figured I could easily do a fake guide on how to get along with your siblings," Hales said.
Dabich appointed Choi, Omar and sophomore Matthew Harrington as the uprising club officers and hopes that they will continue to host Open Mic Nights at Caffe Amouri.