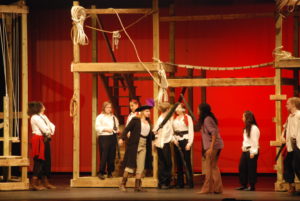 The theatre program produced class of 2015 graduate Liz Carlson's adapted play, The Sea Cook: A Story For Girls. The cast had been preparing for the show as early as the first week of school and premiered on Oct. 13.
"We [the theatre program] have 18 people in the cast," junior Sonali Doshi said. "The work ethic among cast members is great. Everybody in the cast is really committed and excited about the production, and it makes rehearsal in general a really positive atmosphere."
While 18 cast members might seem like a lot compared to past performances, the size along with the play itself has some differences that make it stand out from the others. Liz Carlson, a former theatre performer herself, rewrote the story to make it special to her and the theatre program.She took a spin off of the famous Treasure Island and focused on strong female roles,
"Liz's story is special because it gender reversed all roles," junior Courtney Johnson said. "Typically there is no or very few girls while the show is centered around the idea of the girls empowering the guys."
The theatre program has gained attention for its raw talent in the singing and dance department, which in the past have won several awards for other productions. The play that the program produced last year, Loserville, was a huge success, and contributed to this reputation.
"That show was different primarily because [it was] a musical, so it had singing and dancing, which this show doesn't have," Doshi said, "The cast of Loserville was also a bit bigger, closer to 30, which made the whole process a little bit different."
The cast will be interpreting new techniques to the play that they have never tried before. They will be simulating a beach, similar to the one found in the National Building Museum this summer.
"Our set for The Sea Cook consists of many multi level platforms that form together into the ship, the Hispaniola," junior Isaac Feldman said. "The ball pit contains over 160,000 balls that originally came from the National Building Museum's beach exhibit.
Even with the challenges of new techniques that the cast will use and a smaller cast in general, they couldn't be more excited to produce a play from one of the theatre department's own.
"I'm not nervous at all about doing a production written by a former GCM student," Doshi said.
The community as a whole has taken a big interest in the show, which has been noted for featuring solemn lessons and topics of discussion while still being full of action packed scenes and frequent interjections of humor. Carlson's production has been something the cast of the theatre program has enjoyed producing and has been enjoyed by all ages who have been a part of witnessing the production.
"In general, I think our gender swapped version of "The Sea Cook is really amazing and means something really important," Doshi said. "It's really amazing to be a part of a show that is so close to the Statesmen Theatre Community."