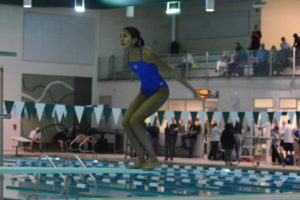 Regardless of swim and dive's successful season, the teams were unable to attract a large spectator turnout at events, even during the Capitol Conference meets in which they placed second overall.
Swimmers and divers bring intense effort throughout the week, devoting a large portion of their time to different meets and practices.
"We have practices Mondays through Thursdays for an hour," senior and varsity swimmer Eve Grill said. "Every Friday, we have a meet and those pretty much take up our entire afternoons. We have to be at school around four and don't get home until around 10:30."
The lack of turnout at swim and dive events could be credited to both the unstable start and end times of meets and the inconvenience of the locations.
"For most people, getting to swim meets is really hard," Grill said. "There are no set start times since dive goes first which can affect when the swimming portion will actually start."
Even though meets receive low spectator turnout, much of it could be credited to the manner of the sport in itself.
"While [a larger turnout] could motivate swimmers more, swimming is generally a pretty independent sport," Grill said. "I think that the amount of spectators and its correlation to swimmer's performance is pretty minor."
But sophomore and varsity swimmer Calley Lwin expresses the benefits of having a lot of support, especially during the more important times in the season, such as conference meets.
"Swim is actually a very interesting sport to watch, and it would be amazing to have more people show up to support the team," Lwin said. "I think people dwell too much on the inconvenience of the locations, so they don't think that it's worth it to show up."
Because Marshall doesn't have a pool, the teams have to travel by bus to different schools in the county.
"I understand that it's probably difficult to arrange rides and make time to drive to wherever we're meeting, but if more people just tried it out I think they would realize how much fun you can have watching a swim meet," Lwin said. "It's so fast-paced. You're never bored."
Swim and dive is a winter sport, so it competes for attention with basketball, a sport that attracts a lot of attention from the students.
"I think basketball is such a fast-paced, exciting sport and it's very easy to hype yourself up for a good game," sophomore Liam McNulty said.
Much like football, basketball is a favorite amongst the student section, subsequently lessening the spotlight on the swim and dive teams.
"It's not that I wouldn't want to watch a swim meet," McNulty said. "It's just that for basketball, the student section is always so much more present and they just have a louder and brighter feel to them overall."
But while the teams could potentially benefit from more attention, their record proves that the lack of support from the school has done little in terms of negatively effecting their seasons.
"Of course, everyone loves support and it's very beneficial to have, but we made it this far due to hard work and confidence in our abilities, which I think is all that we really need," sophomore and varsity swimmer Lauren Cook said.