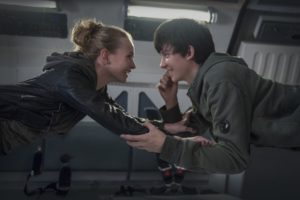 Gardner Elliot is the first human born on Mars. After his mother died in childbirth while aboard a spacecraft, Gardner, played by Asa Butterfield, grows up with little knowledge of life on Earth. His only contact with life beyond Mars is with Tulsa, played by Britt Robertson. Tulsa is a rebellious high school student whose only wish is to age out of the foster system. Together they go on a quest to find Gardner's father and, in the process, discover what makes life on Earth so beautiful.
The cinematography in this movie is incredible. The locations where the film shot had beautiful nature scenery and the colors were complimentary in every shot. It was overall a very visually pleasing movie, as they also played with contrast and unique angles. Additionally, the CGI is incredibly realistic.
Hands down, my favorite part of the movie was its soundtrack. From Ingrid Michaelson's heartfelt "Smallest Light" to the Crystal Fighter's feel-good "At Home" to many serene instrumentals by Andrew Lockington, I shamelessly went home and downloaded the entire playlist.
But this movie is nothing if not cliché. The plot barely progresses up until the last 20 minutes or so, where all of the sudden all of the plot lines converge at once. One would think that in an hour and a half of barely any plot progression, there would at least be a chance to form deep and well-rounded connections to the characters, but unfortunately, this wasn't the case. The empathy formed between myself and the characters was surface level affection. Tulsa, the main love interest, particularly bothered me, as she fell perfectly into the manic pixie dream girl trope. She is a classic example of the motorcycle riding rebel from a broken home that fools the audience into thinking her character is more complex than it actually is. She has little backstory and really only aids Gardner in his own self-exploration
Their infatuation with each other felt a bit rushed at times, but I didn't mind because Butterfield and Robertson executed the roles in a very authentic and emotional way. None of this is to say that I didn't feel invested in their storylines, but if you're looking for a movie to make you question what it means to be human or look differently at the world around you, this isn't it. Instead, this is a movie meant to tug at the heartstrings and centers around idealistic notions of love. Even if you aren't interested in a star-crossed lovers coming of age story, I recommend going solely for the beautifully composed shots and fantastic soundtrack.