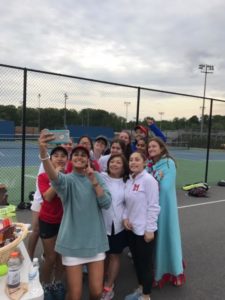 Amongst the varsity girls tennis team's numerous victories this season, it may be surprising to learn there was a shakeup in coach leadership. Tennis coach Arlene Fitz-Patrick guided the team through each successful game, all while recovering from cancer.
"I've never coached before and I love being around kids," Fitz-Patrick said. "Also, because my daughter [Ashley Fitz-Patrick] is a sophomore [and] she's going to be graduating soon and she's going to college, this is a time for us to be more together."
Fitz-Patrick said she believes her approach to coaching has been effective in leading the team.
"I don't change their strokes because they have their own personal coaches," Fitz-Patrick said. "It's more [of] me keeping the team together, keeping the spirit up, motivating them [and] inspiring them to play their best."
Though the high school tennis scene is a departure for Fitz-Patrick, she found that the experience was valuable to the players.
"Some players think that it's a waste of time, but they don't see the other aspect of tennis like representing your high school [and] being proud to be part of the team," Fitz-Patrick said.
Tennis has been instrumental throughout Fitz-Patrick's life, especially in the formation of her family, and remains a large part of it to this day.
"I joined [the United States Tennis Association] and I met so many people," Fitz-Patrick said. "That's how I met my husband. My daughter, Ashley, is also [on] the high school team so it's just our life. It's like we breathe tennis."
Fitz-Patrick's experience as a tennis coach was something of a renaissance for her, as she had spent a large portion of time prior dealing with her cancer diagnosis.
"It was very difficult," Fitz-Patrick said. "When you're sick, you always think you'll live forever and then suddenly, death comes knocking at your door. It makes me feel more grateful that I caught it at the very early stage. I'm better but during that time, it was very difficult. My only goal was to get better."
Fitz-Patrick recounted the process of treating the cancer, which was made all the more difficult by an accident with a house fire.
"I was very proactive with my treatments," Fitz-Patrick said. "It was like a rollercoaster with every [chemotherapy]. It's one week up and two weeks down, one week up and two weeks down. Then, I had radiation [and] then we had the fire. Your view of life changes."
Faced with numerous hardships, Fitz-Patrick said she found support in her friends from the tennis community.
"I had a lot of friends who brought dinners for us," Fitz-Patrick said. "[The tennis community] was so amazing. All my tennis friends, they had this website and they would write down who was in charge of [each] day and what meal they'll bring, and this went on for seven months. I'm really grateful because it's kind of hard to be in bed [while] my husband has to work and my daughter has to go to school."
Once the treatments were finished, Fitz-Patrick accepted the offer to coach the girls varsity tennis team.
"This helped me because it was something new to me," Fitz-Patrick said. "I'm learning and so it makes me happy that the girls are really thriving. I'm happy that I'm playing tennis again because I couldn't play for eight months."
Reflecting upon her journey, Fitz-Patrick advises anyone dealing with hardship should continue to persevere.
"My advice is to think positive and always think that life will be amazing if you open your eyes and ears," Fitz-Patrick said. "Even with suffering, there's always light at the end of the tunnel. If you just try your best in anything, you're going to come out as a winner."