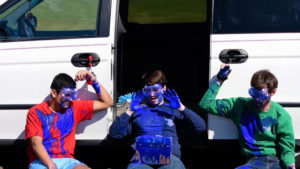 IB Film classes got the opportunity to present their films to the community through the IB Film Festival on May 19. The event premiered 16 movies from Marshall, Annandale and Robinson film classes, all from a variety of genres. This collaboration with other schools is a first for the film festival.
"GCM Film Fest is a night of celebrating student filmmaking," IB film teacher Pierce Bello said. "It started as an event for Marshall students, but we decided to open the flood gates of talent to all Fairfax County public schools and now we even invite any submissions from any IB school in the mid-atlantic region."
Junior Alex Schmid created Insert Story Here, which was one of the films featured in the festival. The film follows Natalie, junior Tatiana Kennedy, who realizes that things are changing in the world around her, and even her friend Florence, junior Samantha Feldman, is affected by the changes to reality. The big twist is that the whole reality is a story and the changes to reality are just edits.
"I wanted to make the audience think and have an 'aha' moment at the end," Schmid said. "So when you're writing a story there are so many changes you make to it throughout and I thought I could incorporate this by looking at the perspective of the characters reacting to these changes by also kind of putting a story in a story."
The general audience of the festival enjoyed the films and the event overall pointing out the hard work that was put into everything.
"I thought it was really fun," junior Julia Kun said. "I think that it is interesting how it incorporated a lot of films not only from Marshall but also from Annandale and Robinson as well, which was kind of cool because it was a compilation of work."
Each entry also got the chance to win a prize depending on the amount of votes they got from the audience.
"The Parent Teacher Student Association generously donates gift cards which I try to distribute evenly across the awards," Bello said.