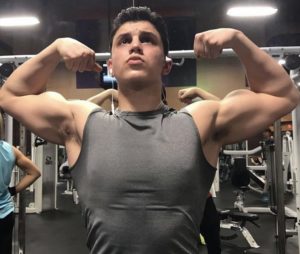 Passion takes on a whole new meaning for sophomore and aspiring competitive bodybuilder Joseph Karam. He said that, to him, passion is found in moments like taking his prepared meals to parties and going to the gym on a friday night. Karam said that the root of this passion is traceable back to when he first turned 12.
"I decided I wanted to change my body because I didn't like the way I looked," Karam said. "I lost weight within five or six months, and I decided I needed to put on some muscle, so I started lifting. [Losing weight] felt good, but I still wanted to get bigger."
He said he started lifting not only to gain muscle, but also on account of his athletics.
"I was lifting to get big for football, but then I realized I liked lifting a lot," Karam said. "Even on school days, [football] practice would end, and I would go straight to the gym."
Karam has garnered over 5,000 followers on Instagram, where he regularly posts progress photos. He attributes his popularity to promotion from more popular accounts.
"An account [on Instagram that] has like 200,000 followers reached out to me and shouted me out, and that's what really got me started," Karam said. "I only got started posting about four months ago, so I've gained like 4,000 followers in four months, and that's pretty cool."
But Karam said that he focuses more on improving his lifting skills than how many followers he has.
"At the end of the day, it doesn't matter about your social media, it matters about your body," Karam said. "But I really don't walk around in a tank top or anything like that to show my muscles. I just keep it underneath. There's a time and place to show that."
Karam said that the place to show his skills is in his difficult training.
"[The training] is crazy," Karam said. "It's so hard coming to school because you feel dead, but you have to get through it. I barely have time to sleep or anything, but I love it, so I do it. "
Karam said he finds motivation to do his schoolwork in of hopes of pursuing an athletics-related career in the future.
"I'm definitely going to college and hopefully study business because maybe one day I could open my own gym," Karam said.
Karam said his parents hold more traditional values when it comes to his academic future.
"[My parents] are supportive, but you know parents," Karam said. "They're all, 'Oh, you need to go to college.' They don't really understand bodybuilding."
Karam said that his friends are much more enthusiastic about his up and coming career.
"[My friends] all support me," Karam said. "My best friend [Colin Nininger] is especially so supportive of me with everything. Having someone constantly supporting me is awesome. Every time I gain a couple followers, he'll be like, 'Hey, I'm so proud of you.'"
Karam said that despite this constant support, he continues to want to see more progress.
"One thing you need to learn about bodybuilders is that they're never satisfied with themselves," Karam said. "They always want to get bigger because there's always room to improve. I always want to be getting better and better, so I can never be satisfied. I can be proud, but not satisfied."