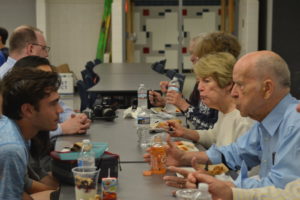 Past collided with present when original Principal Elam Hertzler had lunch in the cafeteria with Principal Jeff Litz and the student body on June 7. Hertzler was the principal from the years of 1962 to 1965, responsible for the opening of the school, as well as Langley High School and James Madison High School.
"I thought maybe people had forgotten all about me but all of a sudden, the class of [1966] resurrected me and that got me back in the middle of things," Hertzler said. "I was pleased with that."
The visit was a chance for Hertzler to reflect upon the beginnings of the school and how he collaborated with other schools like Falls Church High School and Herndon High School.
"I asked those schools to appoint four or five kids who were thoughtful and had the respect of their peers," Hertzler said. "I pulled them together a number of times to talk about what we might do for this high school."
Hertzler recounted his goals for what the school should represent.
"This is a unique high school for a very unique guy and I didn't want to tie his legacy into the military side of it because he did so much as a Statesman," Hertzler said.
One notable event from Hertzler's tenure was the visitation of Katherine Brown, General George Marshall's wife.
"The general died in [1959], but in [1962], the general's historian told me that she was very much interested in this high school," Hertzler said. "There were hundreds of other things named for him, but this was the only thing she paid attention to."
Hertzler offered for Brown to become the first graduate of the school.
"She came and marched in on my arm to the first graduation down here on the football field," Hertzler said.
After his time in the FCPS district, Hertzler entered the federal government.
"President Carter came in, he formed the Department of Education, and I had the privilege of being chief-of-staff to the second United States Secretary of Education," Hertzler said.
Hertzler, who now resides in Florida with a minor role in the local school district, said he was happy that the Marshall community was still strong.
"I'm very impressed with the kids that I've met," Hertzler said. "They're really top-notch kids. I'm impressed with [Principal Jeff Litz] and how well he knows what's going on and is really up-to-speed, as far as I'm concerned, in the means of education."
Hertzler said that he wants graduates to leave as independent thinkers.
"I would very much like for the graduates of [Marshall] to think for themselves," Hertzler said. "Life starts out with discipline. You're born, you don't know what to do and your parents teach you to eat and dress and do all of those things. There's a whole set of rules [and] at a certain point, probably in your teenage years, you start thinking about what you're doing."