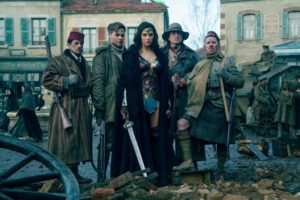 With the first three entries of the DC Extended Universe all having less than 60 percent on Rotten Tomatoes, Wonder Woman was Warner Brothers last hope to keep both critics and fans interested in their new franchise. Released on June 2, the highly anticipated entry into the DCEU stars Gal Gadot as Diana Prince, better known as Wonder Woman, and Chris Pine as Steve Trevor as the two fight their way through the Eastern front of World War I to stop a new threat.
Gadot's performance was surprisingly good given the fact she is relatively new to the acting scene, and she managed to handle her role with skill. Pine's portrayal of Steve Trevor was also a standout performance, especially when he shared the scene with Gadot. The on-screen chemistry between the two was one of the best features of the movie with each promoting a romance that did not seem forced in any way. Sadly, unlike the main characters, the movie's villains were very underdeveloped. After watching the movie, Danny Huston's General Ludendorff and Elena Anya's Doctor Poison seemed to just be shoved in so there could be an eventual twist. This wouldn't be such a bad thing if their performances weren't lackluster and overall forgettable at best.
A comic book movie isn't complete without intense action, and Wonder Woman definitely delivers that. As the movie goes on, the action continues to improve with more and more intense scenes, starting with simple combat training then later tank flipping and church destroying combat. However, one thing that does distract from the action is the poor computer graphics. This generally is not the worst thing, especially if they hide it well, but it is extremely obvious in the final fight where you should be most invested in the movie and instead you're just watching two poorly made animations fight it out.
Overall, Wonder Woman is a welcome addition to the DCEU with extremely strong performances from both Gadot and Pine. It creates a new standard for not only other DC films, but for female lead comic book movies as a whole.