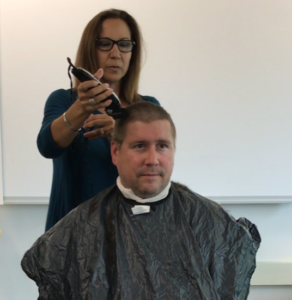 With October being national Breast Cancer Awareness Month, in addition to annual spirit events, such as Marshall Mob's Pink Out and athletes sporting pink ribbons during games, additional events are also run by separate clubs and individuals within the school community.
For example, volleyball coach Mike Carroll organizes the annual Dig Pink volleyball game. The team donates a portion of their ticket sales, as well as the money from their own pizza fundraiser  held before the game, to the Side-Out Foundation that works with the volleyball community to combat breast cancer. The team managed to collect over $800 to donate to Side-Out's research.
"I feel that not a lot of sports take time out and money out of their program to do something good for the community and other people so it's cool that volleyball's choosing to raise money for breast cancer awareness," sophomore and Junior Varsity volleyball player Rachael South.
Additionally, the Key Club ran their first Hat Drive in collaboration with the Marshall Leadership Class. The school wide drive collects hats to donate to Ellie's hats, a non-profit organization to aid children with cancer. Junior and leader of Key Club Luka Gabitsinashvili said it's easy to get people to participate if the event is promoted correctly.
"I feel like it will be better because you can bring the community together, and you can unite," Gabitsinashvili said. "I definitely think that if you promote it, everyone is going to participate. You just have to make announcements and flyers."
Last year, the English department organized their own event, We're With Helen, for Special Education teacher Helen Anderson, who has been battling cancer for the past ten years. Staff members such as English teacher Kelsey Breslin made signs to show their support, and Spanish teacher David Barkley as well as some social studies department even went as far to shave their heads.
"The response that was so heart touching to me was that my colleagues in the social studies department said 'hey we're gonna do it too' so right after a meeting five of them came up and all of them had their heads shaved," Anderson said.