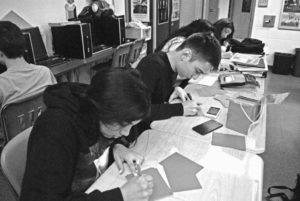 Every year, Operation Gratitude, a nonprofit organization seeking to give back to military personnel, collaborates with the Leadership class at Marshall.
For the first quarter service project, Leadership teacher Pierce Bello said he chose the task of collecting candy to donate to soldiers overseas.
"The purpose of our leadership program is to show the school community that despite common belief, high school students are good people and care for their environment," Bello said.
Through service-based projects, Bello said he aims to encourage students to exercise leadership skills while pushing against stereotypical labels that are associated with high schoolers.
"High school kids get a bad reputation for being selfish, materialistic and consuming," Bello said. "The purpose is to show the school community that high school kids are great people that do care about their environments and to show the great work that we see a lot within Marshall."
This year, between Halloween and Thanksgiving, Leadership students added care packages, along with the bundles of candy, filled with handwritten letters along with donations that included clothes, DVDs and CDs to thank troops and veterans for their service to the country.
"The most important act of kindness for our servicemen and women that we can exhibit as high schoolers is to show them our appreciation for their hard work," junior Luka Gabitsinashvili said.
The Leadership class was able to collect 154 pounds of candy they will send to troops.
Alongside the candy, students handwrote 70 letters as a special thanks for the military troops' service. Leadership gathered all of the candy and prepared it for shipping through Operation Gratitude.
"It is a treat back home to say that 'we're thinking of you and we are thankful for a lot of the work that you do'," Bello said.
The Leadership class made extra efforts to make sure the fundraiser was well informed to the entire school.
"We spent a lot of time advertising by putting up flyers and making announcement," Gabitsinashvili said. "However we were still very surprised with the amount of candy that we ended up with, and it made us really happy."
Gabitsinashvili said that the Leadership class spent a long amount of time planning and implementing the program. He said that it was very worthwhile and satisfying to be apart of this project.
"I really think the soldiers will appreciate the candy, and hopefully the soldiers will get it before Thanksgiving," Gabitsinashvili said.
Haycock Elementary school supplemented Marshall's efforts by hosting a candy drive of their own.
"They received 60 pounds worth of candy to donate to troops," Bello said. "This is pretty remarkable."