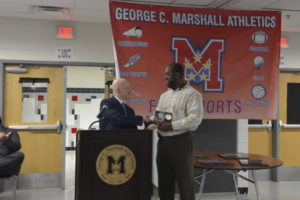 Fairfax County School Board Member and Marshall Alumni Ryan McElveen recognized cross country coach Darrell General and track and field coach Clifford Wong at the Fall Sports Banquet on Nov. 14 for their titles of All-Met Coaches of the Year.
McElveen attended the banquet to personally congratulate General and Wong.
"These two coaches are close to my heart, because they were my coaches while I was at Marshall," McElveen said.
General and Wong both received a plaque for their achievements from McElveen.
"[General and Wong] are some of the most colorful personalities I know as well as committed public servants," McElveen said.
Senior and varsity cross country athlete Rachel McFaul said that she is happy for the coaches.
"[They] deserve the award and I'm glad they finally got recognized," McFaul said.
McElveen said that both General and Wong have positively impacted his life and others.
"As all the coaches here know, when you coach, kind of like when you serve on the school board, you aren't doing it for the money, it is a community service, and through their service each of them have touch the lives of many students over the years," McElveen said.