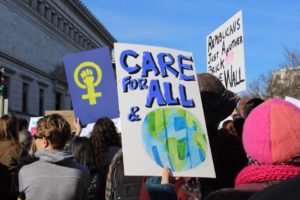 Amongst millions of other Americans, Marshall activists united in the Washington D.C. Sisters March on Jan. 20.
On the one year anniversary of the historic Women's March, nearly three million people came to protest the lack of gender equality in everyday practice and in the current political climate and the presidential administration.
Protesters marched from the Lincoln Memorial to LaFayette Park.
"It was a really good experience," senior Hiam Baidas said. "It felt really empowering and comforting to be marching with so many people who I know support the same values that I have."
Despite the fact that the March turnout being slightly smaller than last year, the March was still a success for the protesters.
"There was still a lot of people, but definitely less than last year," Baidas said. "The turnout this year was kind of better because it made [the march] more enjoyable."
The protesters also marched in favor of equality for immigrants and minorities.
Junior and founder of the GCM Girl Up club Izzie Moutinho went to both marches as well.
Moutinho said that herself, she along with many other feminists, do not need labels in order to fight for what they believe in.
While the march is considered a "feminist" march, Moutinho said she would caution against attaching such a label.
"I don't think that we need to adopt the term that describes someone that wants equal rights, but if you are labeling me as a feminist, I really don't care, but if you are using it as an insult, that is where I'm going to draw the line," Moutinho said.
Junior Sophie Sardari said the march was one of the few things that the youth can be a part of in relation to politics.
"This [march is] different, but I like to be a part of these events," Sardari said "it is kind of community collaborating."
The march was also a call to remove Trump from office.
"I think [Trump] gives himself a little more credit than he deserves," junior and officer of the GCM Girl Up club Erin McDonald said.