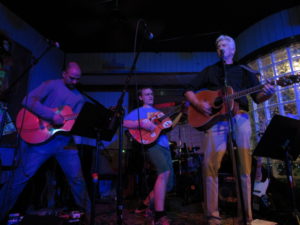 English teacher Walter Miller debuted his third album, Everything's Jake, with his band the WD Miller Band at the Epicure Cafe on Nov. 12.
"I've spent the last eight years working on this CD and I'm very proud of it," Miller said.
His efforts with the album have not been without its struggles, and his time away from playing and writing music has caused its fair share of issues.
"I've been out of the game for so long, it was a lot of joy and a lot of anxiety at the same time," Miller said.
With the help of teachers and his old band members, he was able to create the CD and give the performance he wanted.
"I'm not really a performer, I'm more of a song writer so I was out of my element, but Matthew Horne, Paul Fauteux and the old band all had my back," Miller said. "I was very grateful for all the support I received from them."
Miller did not perform by himself, as he also had the help of the student band, Foxglove.
"It was an honor to open for someone like Mr. Miller," sophomore and band member Jack Lwin said. "I know that he's been working hard and I think that's something we all kept in mind to keep us going."
Foxglove said they were proud of their work at the event but also gave their praise to Miller as well.
"I'm really proud of not only what we've done, but for Mr. Miller too," sophomore Will Izdepski said. "He's an impressive performer and it was all just a great experience."
Horne and Fauteux also joined Miller on stage, and Horne said the experience was something they couldn't refuse.
"I think that I have formed a bond with him over the years through students and through teaching but it's great to contribute to his art and I was honored to be apart of it," Horne said.