Although the Margiotta brothers have worked hard to achieve their of athletic talent, they continue to push each other to improve their skills and bond as brothers through sports.
Freshman Patrick Margiotta and sophomore Andrew Margiotta have both played football since second grade and prompted their older brother, Christopher, to pursue the sport as well.
"Seeing my younger brothers play really influenced me to try it out," senior Christopher Margiotta said. "Now I'm playing it in high school, so it worked out."
Last year, Andrew was pulled up to the football's varsity team and joined Christopher.
"Last year was a good experience because I got to play with my brother during practice when he got pulled up to varsity," Christopher said. "It's kind of interesting too because he plays offense and I play defense so usually he's on the field when I'm off and vice-versa. So I just think that being on both sides of the ball really increase that competition level.
Christopher said it was an interesting experience because it was the first time he's ever played with a brother before on the same team.
"I think we grew a lot as brothers," Christopher said.
Patrick will join Andrew on varsity next season, and all three brothers will play together during the first playoff in 25 years.
Additionally, Patrick plays basketball and lacrosse.
"It's good that I have Andrew and Christopher there to help me along the way," freshman Patrick Margiotta said. "I have two older brothers that I can look up to and who are setting good roles for me, and if I ever need them I know I can always ask them questions."
Last year's football season was an interesting experience for Andrew as was pulled up from freshman to JV and eventually varsity.
"I worry that a student can't handle [being pulled up to varsity]," Coach Joe Swarm said. "In Andrew's case, last year, I think it was handled well by Coach Masten and the staff. We had conversations throughout the whole season because they brought him up to JV to see that he was able to physically, mentally handle it. He was excelling at freshman; it was almost unfair. So we brought him up to JV and it was still almost unfair. And he was able to slowly progress to varsity."
But most people are unaware of how nervous Andrew was while joining the varsity team.
"I was scared out of my mind. I would be going up against seniors and I was on a team where I didn't know anyone except Christopher," sophomore Andrew said. "Everybody just thought 'Oh, he got pulled up, he's good' and just sort of inferred that I was happy about it, but Christopher really took me under his wing and show me the ways of the land and after a while I got used to it."
Andrew also plays baseball and basketball.
"I've always been the athlete of the family, but football has taken years to get good at," sophomore Andrew said.
Andrew accredits some of his success to his older brother, Christopher for supporting him and proving to be a good role model.
"Ever since a young age, I've always looked up to Christopher. We've shared a room since I was born and we've always had a tight bond. He's always been there for me. Not a lot of people know that I look up to him for school, sports, our faith, [pretty much] everything.
Christopher is aiming for the IB Diploma and said it's hard to balance both school and sports. His busy schedule has taken a toll on his sleep.
"I get maybe five or six hours of sleep every night and it's tough," senior Christopher said. "My parents aren't really on me for my grades. It's my motivation. I'm a very organized guy and have to plan through what I do. I know that I have a certain amount of time after I get home from practice before I go to bed, so I make every use of my time."
Christopher said he wasn't as interested in sports when he was younger, but was eventually convinced by his friends to try football and lacrosse in seventh grade, the two sports he now plays in high school.
Although Christopher enjoys playing, by the end of the season he wants more free time especially because of his college applications.
"One thing people don't really know about me is that everything I do doesn't come naturally," senior Christopher said. "It's very stressful and I really have to budget my time. There are times when I'm completely overwhelmed. I am human. Doing all of this has definitely taken a toll on my sleep and stress levels. But I think it's worth it [to become] a more balanced person."
Christopher said it's important to keep a steady head and to be humble in all that you do.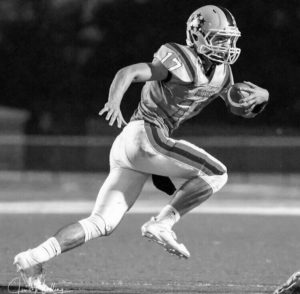 "There's always going to be someone out there who's better than you, so I use that as my motivation to work harder," senior Christopher said. "It's great that we get recognition for what we've done, but I think the possibilities are endless so we keep working."