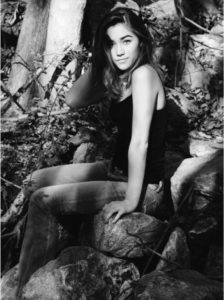 Senior Anna Carlson uses photography as a means to portray her artistic vision.
Carlson initially began pursuing a passion for photography at her previous school, Grace International
School in Thailand, because she said everyone was art-oriented and said she felt the need to jump on the bandwagon. However, over her past 3 years as a photographer, she said she's come to love it, which is why she now specializes specifically in portrait photography.
In order to initiate her business, she had to get a lot of practice with the camera while making a name for herself.
"[Prior to beginning my business] I tried to get a lot of practice and free sessions under my belt," Carlson said. " I then created an Instagram account and website, posting ads and photos anywhere I could. Clients usually DM me on instagram."
When asked why she focuses on portrait photography, Carlson said she enjoys the experience of holding power to portray other people.
"I think that working with different people gives me the opportunity to capture them the way they want to be portrayed," Carlson said. "Even though they are vulnerable, they are trusting me with that power."
Over the years, Carlson has done photoshoots with a number of people, but one of the first people she worked with was senior Marin Uher.
"I thought I would feel kind of awkward when she was taking the pictures, but it is actually very laid back and we always have a lot of fun," Uher said.
Uher has even played a role in helping Carlson run her business. "We normally brainstorm some theme ideas for each photoshoot and then we each come up with some suggestions of places that might be a cool setting to fit the theme," Uher said.
Carlson said that when taking photos, it was important to create a comforting environment for the subject,
"When you're taking photos of a person, you have to make them feel comfortable," Carlson said. "Being a girl, knowing when they feel vulnerable in front of a camera, they give me the privilege to capture them in the way they want to be seen."
When asked about one of the exciting moments in her photography career, Carlson said she and her client once almost burned themselves.
"So one time, I wanted to do this Fourth of July shoot so we got sparklers, "Carlson said. "Then almost burned ourselves trying to take a picture with them, It was so funny."
While Carlson does not plan on studying photography in college, she said she hopes to possibly take some college classes on it, or doing side jobs in it for fun.